Those of you who know us know what a treasure Maranatha Bible and Missionary Conference is for our family. My parents are leaseholders and they graciously allow us to overtake their space each summer. For the past three summers the kids and I spend more time here than we do at home. And for 11 weeks we learn, love, and live the legacy that is this place. Maranatha has become such a part of who we are that we can't imagine our summers spent any other way.
We enjoy this place for its fun and for its beauty. We love it more for its life lessons and its commitment to the Gospel. But the part that makes it irreplaceable are the people we've grown to love here. There are relationships that inspire, challenge, and carry us through some of the toughest circumstances we could ever imagine. These friends have followed our journey faithfully and participated in all aspects of the process. So we couldn't WAIT to introduce Joshua to life at M.
We wondered how a newly adopted child, still learning to be a part of a family - still learning to trust - would react to this place. We knew how much he could gain from the love, the people, the experiences here. We wanted it to work. But, just in case, we were prepared to abandon ship if need be.
With that background, we moved in for Week 1.
I had my plan (of course I had a plan). Joshua was ONLY going to try morning class; he was ALWAYS going to nap. Joshua WOULDN'T be able to bike or scooter. He'd ALWAYS have to be with Mom ... Night class and Tab and even preschool were all "probably too difficult." (I half planned on moving him down to the toddler room to be more developmentally appropriate) ...
But this boy, our boy ... began by drinking it all in ...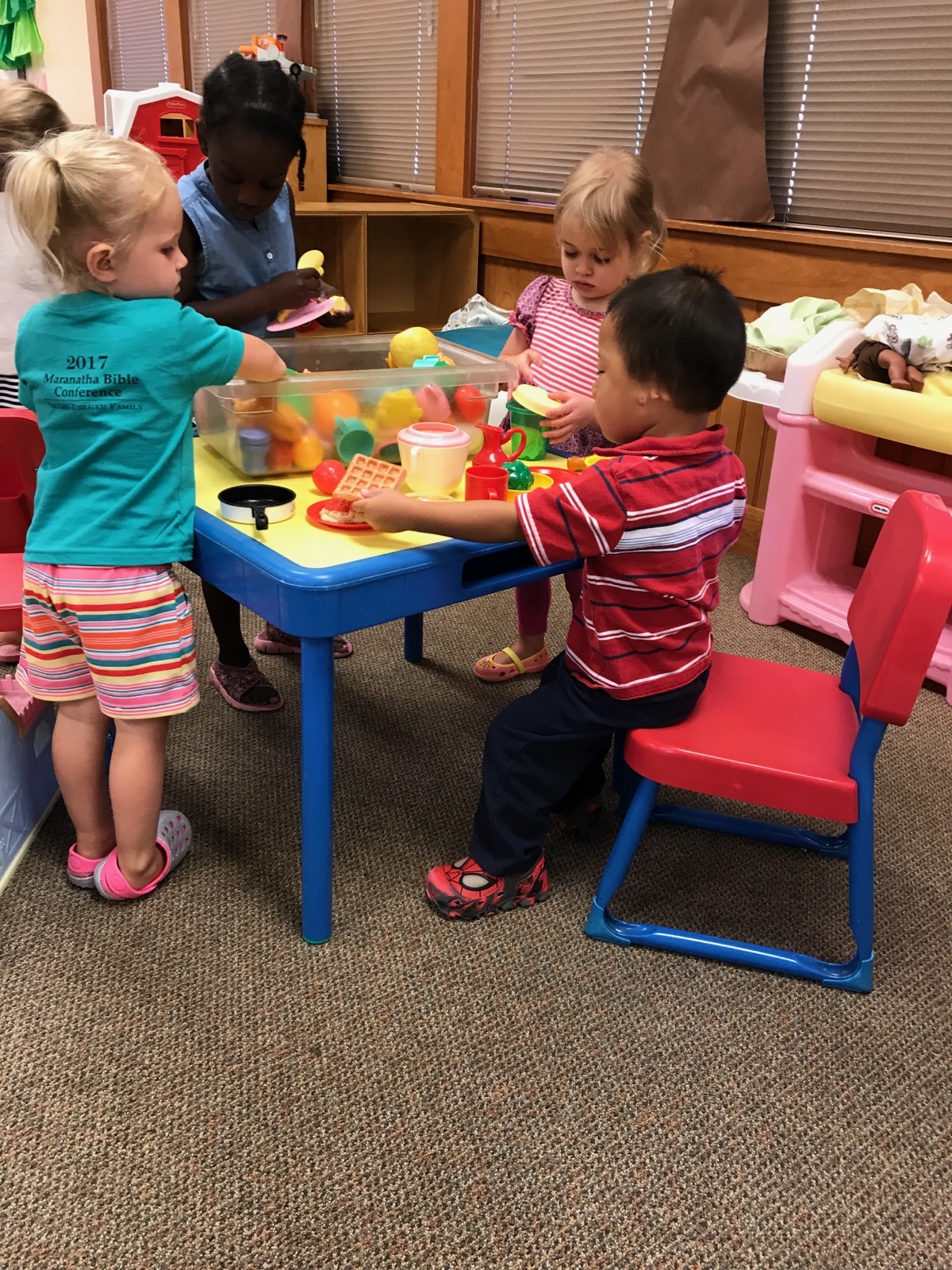 We were overjoyed. He ended the first week asking to go back. Asking when he could see his Nana and Pa again. Asking for class. Asking for teachers. "More please. More please. More please, MOMMA!"

His precious preschool team was loving him, learning from him, and helping him integrate into the classroom setting. He was adjusting beyond my wildest dreams.
I was so thankful. Relieved. Excited.
I entered Week 2 knowing the wheels could fall off the wagon (they tend to do that with resident children sometimes out here ... am I right??), but I was optimistic. We could make this a thriving place for our boy.
But my boy wasn't done.
He had had his little taste, and

he.wanted.more.
We are learning that when Joshua jumps, he jumps in with both feet (did God bring us OUR son, or what??!!!). J wasn't content to sit and watch in the evenings; he didn't WANT to sleep when everyone else was at class. (He's rarely belligerent about anything but he was about this.) This made me recall his response when I executed my "perfectly rational plan" in Week 1. We had him sit and watch his siblings on "Tab night." He struggled against Steve's arms. He fought to get out, and when he realized he wasn't going to, the big, giant crocodile tears came pouring down his face. "Di Di class!" He sobbed. "Di di da... Di di class!" He knew he was part of that group, and no rationally designed plan by his Momma, however much it prioritized his sleep and minimal stimulation, was going to stop him from believing he belonged in that group.
When Week 2 rolled around I stubbornly tried to prepare him. We talked all day about how special it would be to watch the bigs, to watch Maddie. Each time, he'd softly say, "Boo. ... Boo... Di Di do it. Di di do it."

As the time for evening class drew nearer I began to have my doubts ... He knew precisely what I was saying, and he was just as clear as to what he wanted ... He wanted IN. He NEEDED in.
I dropped him off with my precious friends in the preschool room, with instructions not to push it. He could just sit next to them on the benches, help with the directing, he didn't need the stage. He'd be too scared. They reassured me, "No worries. He can do this. He rehearses just fine - he doesn't usually sing but he can stand there with his class. He's got this." I left him and immediately texted Steve (who wasn't coming), "Going to be an interesting night in the Tab. Joshua's going up...."
As I took my usual seat in the tab, I shook my head, this is crazy. He's never going to make it! I was sure he'd see me in the pews and abandon his class. I was sure he'd be that kid who walks on stage and freaks out and runs off screaming to his teacher. I was sure he'd pee his pants, or pick his nose. I was sure in so many ways that he wouldn't be able to do it ... (And I want to add that I wouldn't have faulted him for not being able to do it ... I wouldn't have expected a little boy, in a foreign country, having landed in the US of A not 4 months ago, to stand in front of 100+ people in bright lights with microphones in his face and sing songs and dance while parents filmed and ooh'd and clapped) ...
But I'm here to say, he did it my friends.
My Joshua sat patiently with his class, right next to his big sister. When it was his turn he took a fleeting, furtive glance back at me, and mischievously RAN to the stage. He wasn't giving me any opportunity to second guess this decision. Joshua bolted up in front of the people; he didn't mind the eyes on him; he found his place on the risers and did his thing.
He did his motions, his lips were moving, he sang his songs ... IN ENGLISH. FOR A CROWD. with his peers. And he.was.so.proud.
Check out these precious images (courtesy of Nana's 2nd row photography)
My tears would.not.stop. I couldn't believe what I was seeing. Countless Fridays last summer I sat in this Tab, praying for this boy, imagining him (much older) doing these things. I'd listen to God speak, I'd watch my children's hearts expand and grow, knowing they were being prepared for all that lay ahead. And here, in the very same space, on the very same stage was this child. The child for whom we prayed. For whom we cried. For whom we jumped into our personal Jordan ... There he was, standing there, next to his (giant) sister. And there he was ... even more brave and more courageous than we have ever been, filling his heart and his head with the knowledge of Jesus.
As his teacher came to the back of the Tab she hit me in the flying hug I needed, and I worked diligently to hold the tears back. I enjoyed the flood of texts that night from friends who saw it with the same level of depth and meaning as I did, as they've walked this journey with us.

"He is so amazing."
"This is the Gospel right there."
"Your Joshua! Just WOW."
And as I processed this whole episode that night with Steve, he gave me his super famous look of chastisement (he's always gentle, but usually right.) "I guess its time to stop holding him back now, isn't it? Let's see what he can really do."
Something tells me that the life God has planned for this little boy is going to demonstrate that my wildest dreams simply aren't wild enough.